INCON BEST PRACTICE CASE STUDY: AIM GROUP INTERNATIONAL
ROME, ITALY
'A spectacular, award-winning Welcome Party'
International Bar Association (IBA)

INTRODUCTION
The International Bar Association (IBA) is the world's leading international organisation of legal practitioners, bar associations and law societies.
As the Association shapes the future of the legal profession, AIM Group was honoured to design a unique experience for the Welcome Dinner of their Annual Conference.
CLIENT CHALLENGE
IBA is an Association that brings together members from all over the globe. Some of them become friends over the years and what they look forward to each year is to meet together in a new city for a new experience. This usually means beginning the Conference with a special party.
The Welcome Dinner is therefore seen as a special event to mark the beginning of several days of intense work and to create the special atmosphere of international collaboration. As a networking event it has to surprise participants and be memorable, not an easy task as attendees are used to prestigious IBA events and are not easily impressionable.
Furthermore, with more than 4,000 expected attendees, the options available for venues was somewhat limited and brought its own special logistic challenges.
AN EXCLUSIVE SETTING
Guests felt honoured when they were welcomed by the local Mayor and with Frascati wine from local DOCG producers. They were also impressed with the way the local community embraced their event, making it a truly local experience. Our guests enjoyed the spectacular views as they left the buzzing eternal city and entered the Roman hills…
The historical and aristocratic Villa Aldobrandini in the hills overlooking Rome is an architectural and artistic masterpiece, rarely opened to events: thus making it the perfect location for an astonishing gala dinner. The venue and its history was then used as a theme for an outstanding Baroque inspired visual and theatrical performance.
PLUNGED INTO A 'FANTASY WORLD'
AIM Group re-created a sumptuous baroque feast, filled with surprises and enchanting performances, a specialty of 17th century Italian courts. Guests were free to walk around the villa, from the terrace to the Villa's rooms, to the gardens and to the famous nymphaeum (fairy grotto), with niches, fountains and statues. Everywhere they went, guests came across scenes and artistic performances inspired by baroque grandeur.
Guests were welcomed at the front terrace by dancers in light infused crinolines three-metres-tall, accompanied by a jazz band.
Live performances were created to mark the Four Seasons as a tribute to the works, housed in the villa, of renowned sculptor and Italian Master G. Bernini. Guests were plunged into the atmosphere of the changing seasons - 'Spring Awakening and Summer Tarantella' were performed by dancers with floral costumes under a suspended ceiling of 15,000 fresh wheat stalks and flowers. 'Autumn Leaves and Winter Reflections' were showcased in a column of fluttering leaves and sparkling snowflakes with dancing figures inside.
The Fairy Signs of the Zodiac Garden were staged to accompany guests along a path to the Pavilion. Each step brought discoveries of new and fascinating elements. Each zodiac sign was represented by a flower by enchanting ladies decorated with clothes resembling Botticelli's Venus.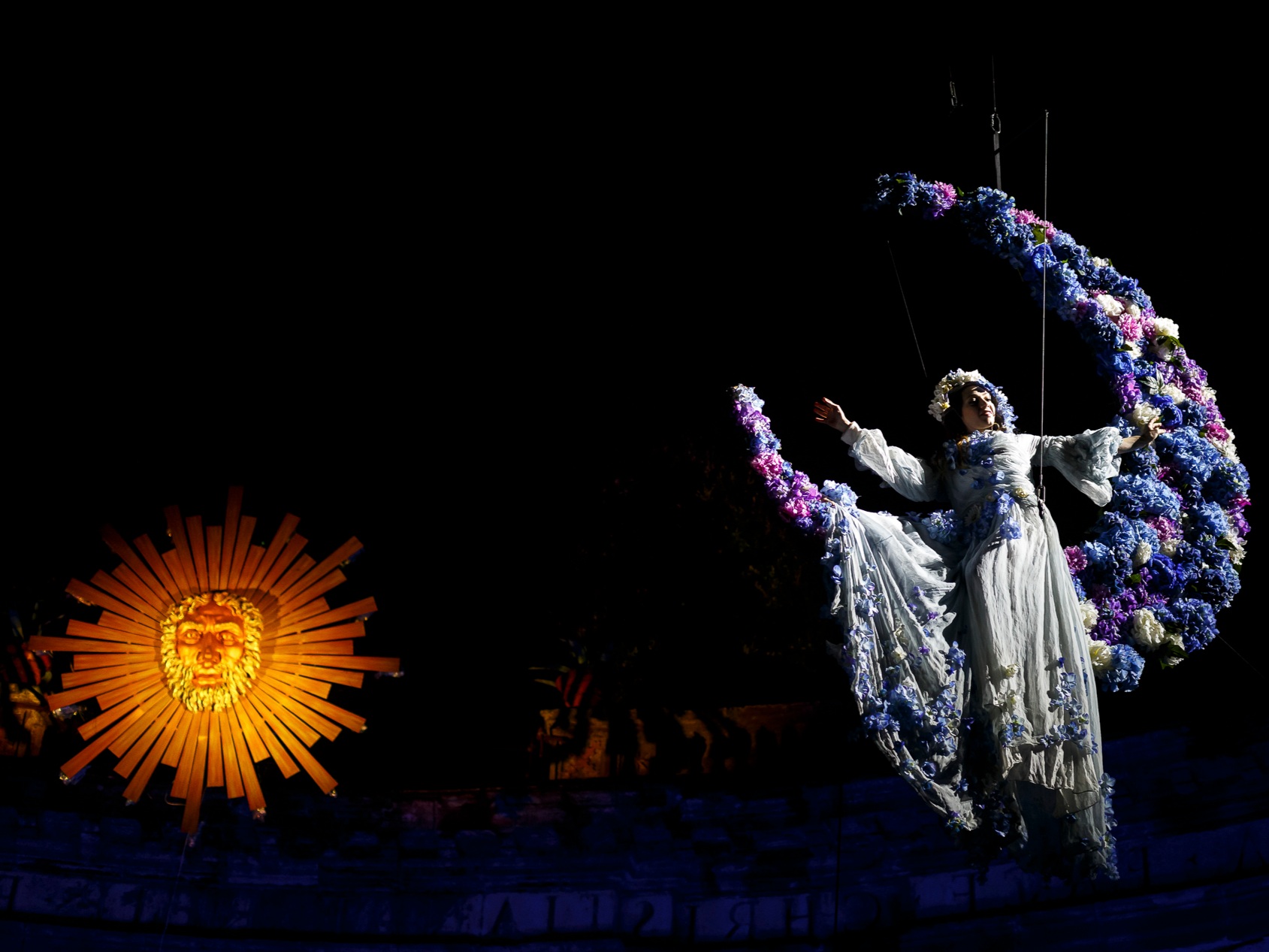 A dedicated show called Il Fin, la Meraviglia was performed at the nymphaeum and provided a rare and exclusive opportunity for guests to enjoy a breath-taking masterpiece based on the show staged in 1589 for the wedding of Ferdinando de' Medici. The performance featured aerial dancers and acrobats and pyrotechnics. With the aid of video projection, there was a constantly evolving theatre backdrop of mythological figures. This unique production cast guests into an emotional and multisensory world.
During the dinner, guests watched three spectacular firework displays including giant balloons and flying acrobats. Guests watched from the privileged location of the villa's terrace, overlooking the valley and the dome of St. Peter's in the Vatican. This was the icing on the cake of an exquisite event giving it an undeniable WOW factor!
Private use of the amazing venue, still inhabited by the Aldobrandini family left guests with lasting memories. Each guest had the possibility to enjoy all the shows (repeated several times) which meant that they could create their very own sensory experiences as they moved freely from one event to another while catching up and eating. Surprise and delight were emotions commonly used by our guests to describe the evening.
Our client feedback also confirmed that we were able to offer that atmosphere of grandeur, surprise and a sense of awe. We provided an opportunity to experience Rome and Italian culture in an astonishingly original way and provided a unique experience even for those who have been to the city several times.
Spirits were high during the evening and most guests not only filmed what they were watching but also spontaneously shared it on social media, posting their impressions all through the night: Twitter was the most used social platform by the attendees in real time and the hashtag #IBARome exploded with hundreds of engagements.
AIM Group organises over three thousand events and meetings every year. Our team of nearly four hundred people, from over 25 countries and speaking as many languages, works out of 17 offices around the world to put an extraordinary depth and width of experience at your service. We offer innovative solutions in many different sectors, from Congress Management to Event and Meeting Management, Healthcare and Pharma Meetings, DMC, Education, Communication and Management Consultancy.
Despite our size, AIM Group still has a "small company" approach to client partnership. From the outset, we set out to understand the needs of each new client and learn their business and procedures.
AIM's success lies in its commitment to running events with professionalism and expertise, in identifying strongly with the outcome. We always strive to add value and are proactive in finding solutions in harmony with client procedures.
Find out more: AIM GROUP INTERNATIONAL →
INCON is a global partnership of trusted conference and association management companies, whose unique collaboration results in the design and delivery of innovative and impactful client events. INCON Partners operate in over 170 destinations from over 81 global offices with a staff of 3,500 employees spread throughout the world.